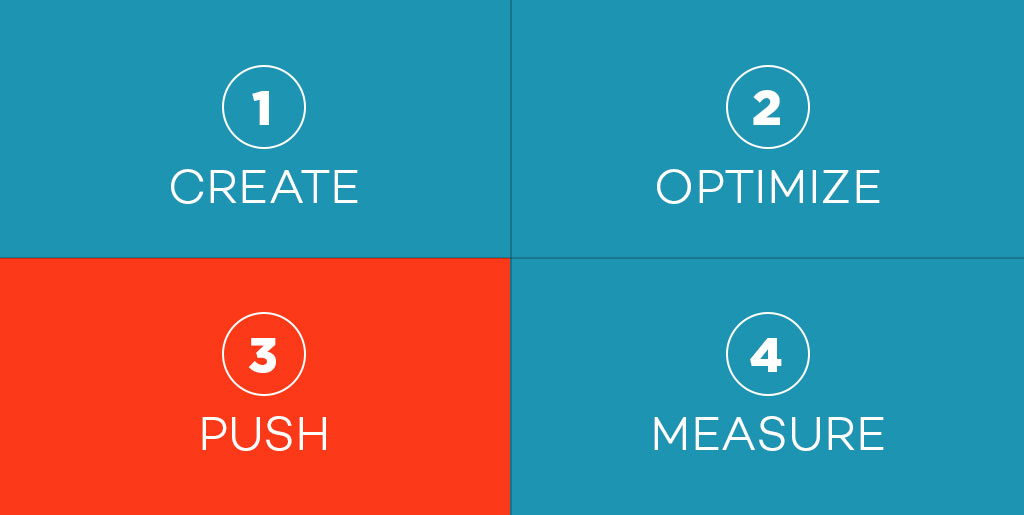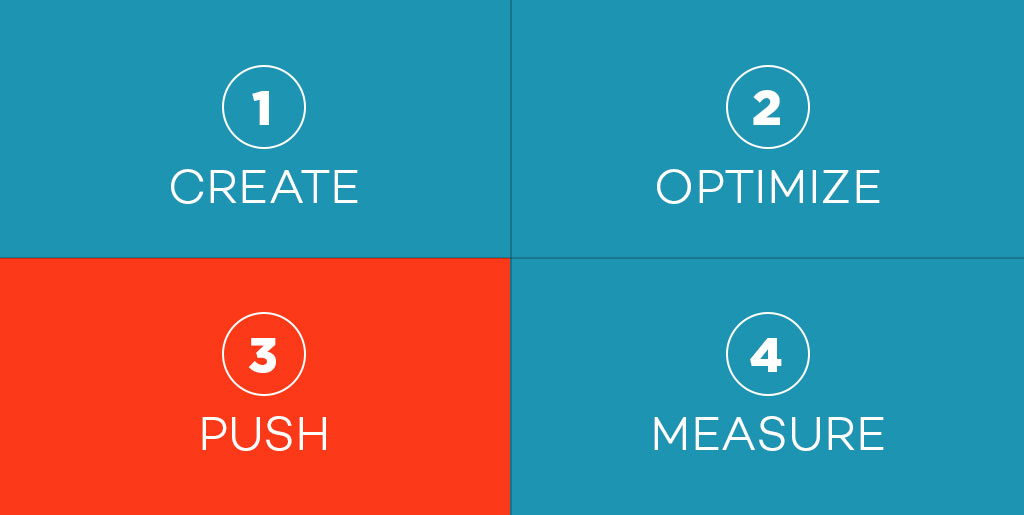 Looking to increase website traffic?
By now you have great content and have optimized it to be found organically on search engines… Congrats!
But let's not stop there. You can take advantage of many different platforms and tools to help your content gain more visibility. In this step, we are going to talk about how you can push out your content to your new potential customers. Below you will find different ideas on how to do just that.
Social Media
This is so obvious it may even seem silly to include it. However, we continuously see people missing opportunities in this area. So, we are going to highlight the main platforms and discuss some different ideas you can use on each of them. One important thing to note about using these social media platforms is that you don't want to only post your blog posts or offers. This is a recipe for a board or annoyed audience that will eventually tune you out. Make sure you're sharing other valuable content, being personable, and interacting with other people or brands in between self-promotion.
Let's talk about a few of the top social platforms where you can easily share your content.
Facebook – I don't care who you are or what you do, your customers are on Facebook. This is a great platform to post blog content and it's so dang easy. Just open your blog post in a browser and copy the URL. Then go to your Facebook account and paste the link in the area where you would create a new status post. Once you do that Facebook will automatically pull an image, title, and description for your blog post. Then add to the post by writing a short sentence or two about how the post can add value to your audience.
Twitter – Twitter is a fast-moving feed where the average lifespan of a tweet is 18 – 24 minutes. Using Twitter is a great way to increase visibility to your content. Plus, Twitter users love links. They are more likely to get liked or re-tweeted. When posting to Twitter, don't forget to use hashtags that pertain to your post. People will search Twitter for hashtags and find relevant content. To add a hashtag to your Twitter post simply put a # in front of a word or phrase, like this #hashtag. If you are using multiple words in a hashtag, do not use spaces, like this #yourhashtag. Since twitter moves so fast, it's good practice to re-post your link daily for a week and then spread it out to weekly then monthly… with different teasers of course!
LinkedIn – Similar to Facebook and Twitter, you can simply share your content by copying the URL of your blog post and pasting it into a LinkedIn post. Remember your audience when describing why they should consume your content.
Instagram
– We find Instagram to be one of the most engaging platforms. On Instagram, you can post images and 1-minute videos, so it's a great place to post your content that is of those types. Instagram isn't keen on links, but you can use cool free tools like Link Tree
Link Tree
to direct people to multiple sections of your website including blog posts.
YouTube
– As I mentioned before, YouTube is the 2
nd 
largest search engine and a subsidiary of the #1 search engine, Google. If you have video, you always want to post it on YouTube. While you're in the process of uploading your video, don't forget to fill in the title and descriptions and add tags for your videos. In the description, you can also provide links to your website or lead pages that correlate with the content you're providing. If you are really serious about taking your YouTube channel to the next level, we highly recommend checking out Sunny Lenarduzzi's
YouTube For Bosses
. She's the expert when it comes to generating traffic to your business using YouTube.
Go Live
Many social platforms allow you to take a live video. This a great way to let people know about your new content. As of right now, social platforms are really pushing live videos for organic reach, so that means your video is likely to get much higher visibility then just posting a link. In your live video you would want to briefly discuss the topic, like a teaser, and then direct them to view more with a link to your webpage in the post description.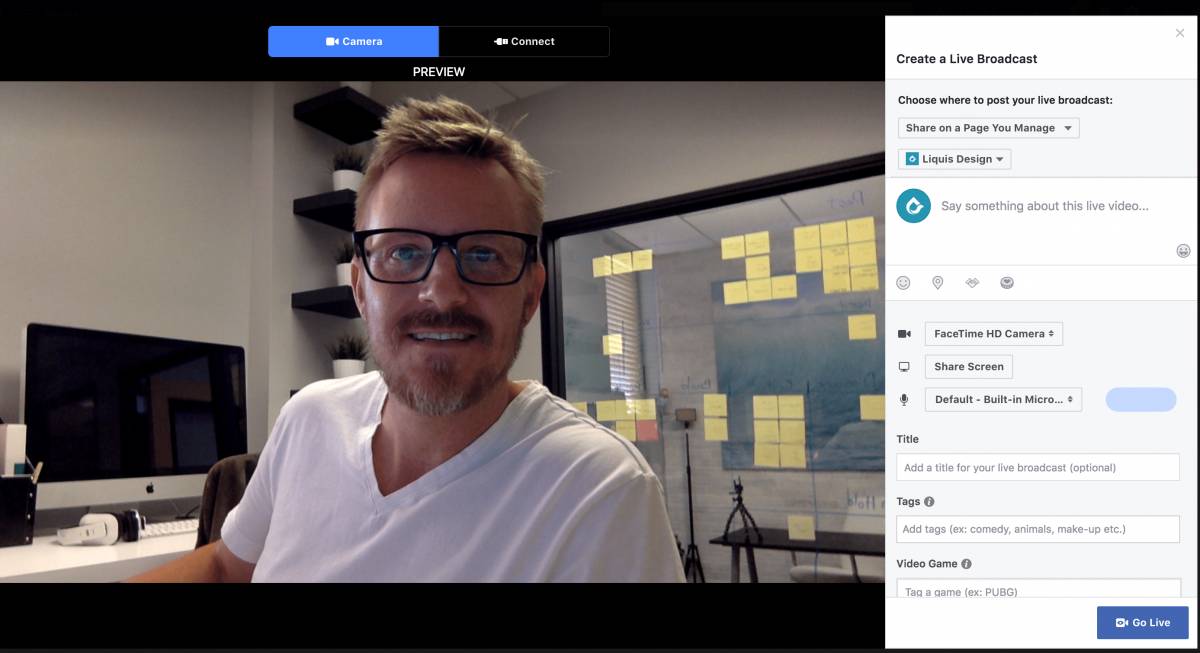 Some of the recommended platforms you can go live on: Facebook, Instagram, YouTube.
Facebook Ads
Running a Facebook ad is a great way to expand your reach and gain more visibility to a very targeted audience.  One of the easiest ways to get started in this area is to create a Facebook post that links to your webpage, like mentioned above, and then "boost" your post. You will see an option to boost your post once it's published. Just click on the blue Boost Post button.
There are more advanced ways to run Facebook ads, but if you're just getting started and looking to expand your reach, then this is an easy way to get more exposure for your content.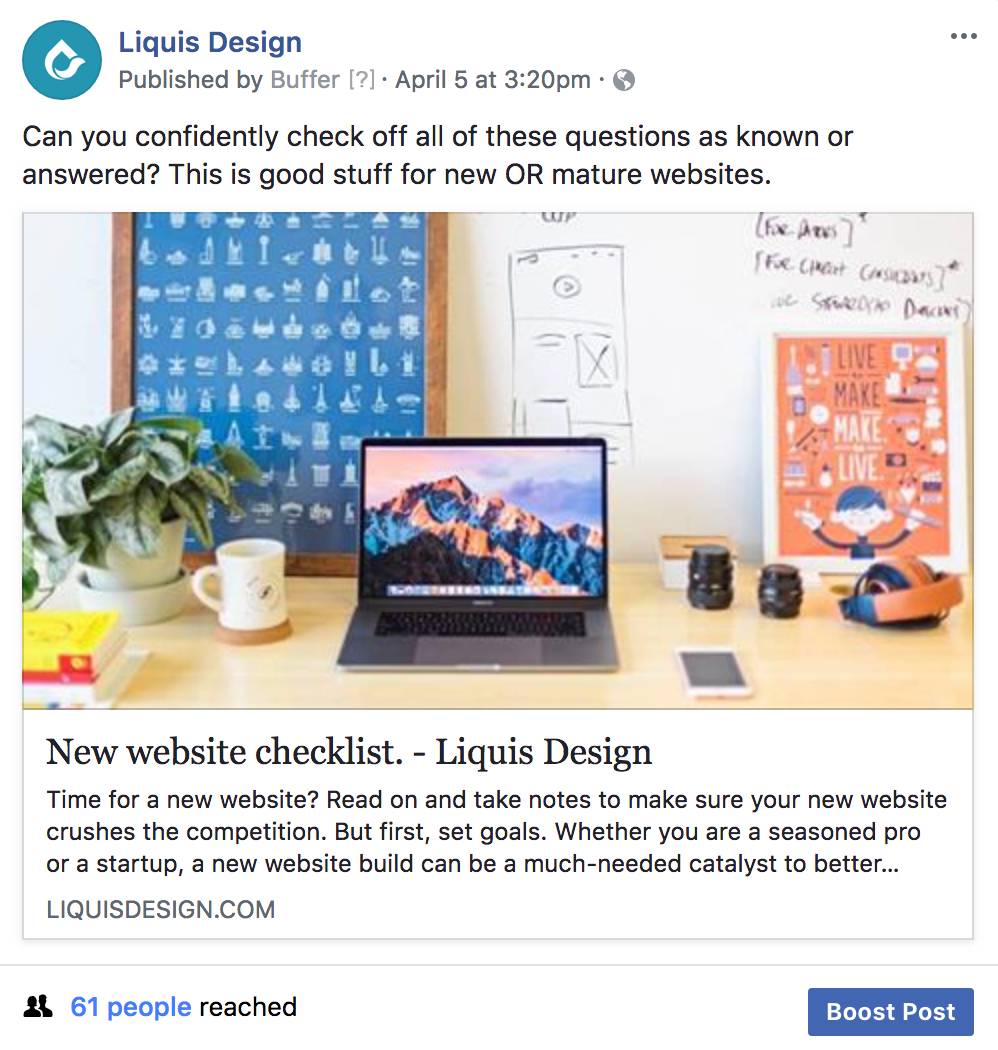 Forums and Groups
Forums and groups are a great place to gain visibility. You will want to use groups and forums a little differently though.  Basically, what you're looking for are people asking the questions that your blog post can answer. So, while you're searching through these forums and groups you want to find individuals whom you can help by sharing your blog post. If you just go into these groups and start posting links to your blog post, then you will come off spammy and no one will really trust what you have to say. It's better to help than self-promote and people can tell the difference.
Engage in the conversation and offer helpful information in your response and then provide a link to your post, where they can learn more.  You will want to be careful not to break the group or forum rules. Some will not allow you to post links to your blog posts.
Recommended places to find relevant groups: Facebook, LinkedIn, Industry Forums, Quora, Alignable.
Once you get familiar with how groups operate, try becoming a group admin yourself! A great resource to do this the right ways is the Social Boss herself, Caitlin Bacher.
Email Newsletters
Sending out email newsletters to your subscribers is a great way to keep in touch with your audience, and what better place to add a link to your latest content. In order to send out these newsletters, you'll need a newsletter system that can allow people to subscribe to a list and also allow you to send them emails.
We recommend using MailChimp for this. It's free up to 200 subscribers and 12,000 emails per month. They provide all the tools you'd need to collect subscribers on your website and send out newsletters.
More tools to push your content.
There are many tools to help with posting to social media, and getting your content shared.
Below are a few that we recommend.